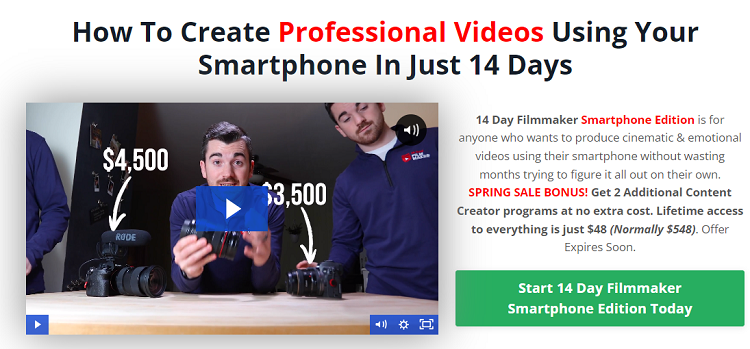 14-Day Filmmaker SMARTPHONE EDITION: Learn how to shoot & edit professional-looking content using nothing but your smartphone (Apple & Android)
14-Day Filmmaker PRO CAMERA EDITION: Master your professional camera gear. Learn advanced editing programs, and start making money with your content!1 Week Director STORYTELLING 101: Master the art of creative storytelling. Learn how to create compelling works of art with your camera.Smartphone Edition: Course Curriculum:
Day 1: How to Unlock Cinematic Smartphone Settings:
What are the best apps to use to maximize the quality of your smartphone camera?The perfect camera settingsHow to avoid common beginner mistakesThe Fundamental Laws of content creation1-Hour Exercise
Day 2: Mastering your iPhone or Android Cameras
How to nail perfect exposure all day, every day.How to get the best, cleanest slow-motion footageWhich cameras & focal lengths are best for your contentThe secret hidden within your phone that's RUINING image quality!30-Minute Exercise: Complete the infamous focal length challenge!
Day 3: Best Smartphone Camera Gear & Accessories (Discounts)
What are the best smartphone lenses?Best budget film lightsBest smartphone microphones?Best affordable motorized gimbals for smartphones?30-Minute Exercise
Day 4: Beautiful Composition. Explained!
How to immediately 10X the quality of your shotsHow to compose the perfect youtube setupWhat makes (or breaks) a beautiful videoThe 5 step process to setup your perfect shotCopy our composition challenge!
Day 5: Cinematic Camera Movements
The 5 movements I use (no matter what I'm filming)The best (and easiest) movements for smartphone filmmakersHow to film handheld (while still looking professional)Full gimbal walkthrough and setup tutorialsMake boring things look awesome with movementRecreate these FIVE movements!
Day 6: Hollywood Lighting Techniques (Made Fast & Easy)
Getting a pro look without buying expensive lightsHow to light youtube videosHow to flatter subjects with soft lightHow to film using natural light sources1-Hour Exercise: Create your PRO setup!
Day 7: Recording Clean Audio On Your Smartphone
What are the fundamentals of capturing clear audio?Save money, don't buy these microphones!The $14 dollar microphone that sounds AMAZING!The perfect audio setup for vlogging, youtube, and commercials1-hour exercise: Create your file tree, organize all content shot thus far with naming conventions & breakdown five commercials lighting setups
Day 8: Storytelling & Viral Videos
The 4 essential components of a compelling storyHow to sequence your videos so they aren't boringHow to tell BETTER stories through creative EDITINGThe viral video formula1-Hour Exercise: Creating your perfect story
Day 9: Cinematic Smartphone Editing
Best smartphone editing appsSmartphone vs. Computer editing: Which is right for you?The universal 10 step editing workflow10 most common beginner mistakesHow to organize your videos to make editing faster1-hour exercise: Download practice footage and start editing!