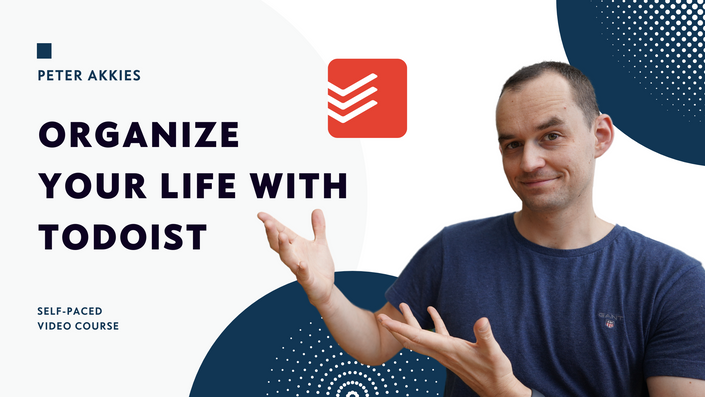 What You Get:
MODULE 1
CAPTURING YOUR TO-DOS
The foundation of organizing your life and getting stuff done is capturing your to-dos. We'll start by making that easy.
Getting your to-dos out of your head and into Todoist
Creating tasks from outside of Todoist
Processing your email with Todoist
MODULE 2
ORGANIZING YOUR TO-DOS
Your task manager gets way more powerful—and your mind gets clearer—when you organize your to-dos into areas and projects. So that's what we'll work on next.
Organizing your life into areas to quickly view related tasks
Structuring your to-dos with projects (and how to use projects in Todoist)
Labeling (aka tagging) your to-dos to track different types of tasks
MODULE 3
PLANNING TODAY & PLANNING AHEAD
The secret to being productive is to clearly prioritize your days and to plan ahead. We'll cover how to do that with Todoist.
How to use due dates
Working with repeating tasks
Setting up reminders, including location-based reminders
Prioritizing your tasks
Planning for a productive day
Making sure nothing slips through the cracks with weekly reviews
MODULE 4
INTEGRATING TODOIST INTO YOUR WORKFLOWS
One of Todoist's great strengths is that it works well with the other apps you already use. So we'll set up some integrations.
Getting clear on what belongs in Todoist (so we keep your to-do list tidy)
Integrating Todoist with your calendar
Using Todoist widgets on your phone
Working with Todoist extensions & integrations
Tracking your habits with Todoist
MODULE 5
USING TODOIST AS EFFICIENTLY AS POSSIBLE
After you learn the basic Todoist workflows and system, we'll make using Todoist as friction-free as possible.
Capturing your tasks quickly with natural language recognition
Saving time with templates
Creating filters (aka custom views) to view your to-dos just the way you want